.:Now I Know How It Feels...:.
There was a time when Bing once told me about how it was to have to do multiple shows in a day, and now I know how it feels.
Considering that my oral exams with Dr. Kaelin was going to be a relative success, I was generally in high spirits about doing two shows in a row, since one was hosting and walkaround for a children's party, and so my usual bag of tricks was going to be sufficient, while the other was going to be a sorta stage mentalism show, which meant I was going to be in my element despite it being a stage show.
.:Bowl Me Over:.
It was a really great day in the bowling alleys of Eastwood, as Santino celebrated his 7th birthday. I met a few guests who were also there during Gianella's party, so it felt like a mini-reunion. The parents of the celebrant had me over to host a fun bowling tournament, and to award not only the top three bowlers, but even the two best bowling teams for the day. They pulled out all the stops. They had trophies, medals, and even loaded Power Cards for the winners. The food was courtesy of Magoo's pizza, so you know what to expect, although they had some Lechon on the side.
It was a pretty easy-going time for me, to be honest. Close-up magic was never a problem for me, so performing for kids and adults alike didn't intimidate me one bit, and the kids were charming to work with. They were every bit as nice as the kids during Raphael's party at Hard Rock were a pain in the whatchamacallit. Of course, that simply meant that I wasn't going to have any problems at all, and hosting the party with cooperative albeit enthusiastic kids was going to be loads of fun. I was tempted to bowl, even.
After two hours of bowling, the winners were announced, everyone went home with a loot bag, and I ended up with a disc that I needed for the Ring through Rope routine, courtesy of the celebrant.
Definitely one of the best children's parties I've ever performed for, especially since I did both magic and hosting for them.
.:Reedley's Freak Show!:.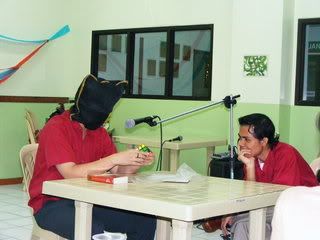 Yes. I cater to skeptics and hecklers, too!


I hustled back to Reedley immediately after the walkaround, and found myself with only a few minutes to prepare before it became my turn to do something freaky for the school's Thanksgiving Day. This was despite a certain issue that happened the day before which we must not speak of.

Anyways, I had a couple of warm-ups by doing Sufoku and "Thinking On Your Feet", then followed it up with O.R.B.S., Plunge Of Death, and then Liquid Metal. By the time I performed Black Ops Hypnosis, everyone was sufficiently freaked out, and if I do say so myself, this was one of my better performances.

I'm a bit miffed with all the attempts to "break the code" of my performance, as it were, though, because it's rather offensive and disrespectful to me. To put it bluntly, I performed for free and for people's entertainment, and for them to adversely affect my performance by attempting to debunk it, well, even if their attempts were easily disproven, I found it a tad annoying.

Despite that, I got quite a lot of good feedback from my performance, and I definitely cemented my reputation as a mentalist that night.

Even then, I couldn't hold a candle to Mr. Vengco, whose mind-splitting performance really brought the house down, as he broke watermelons with his head.

It was an awesome time. Other than the slight annoyance, I had a great day all around.