.:Bloggers Assemble!:.
So last Tuesday night, at the behest of
Aileen Apolo
, I headed off to SM Mall Of Asia where the bloggers got together. My memory is failing me, but I remember running into quite a few popular bloggers, and I'll do the link-loving thing when I get a comprehensive enough list. Heh.
In any case, I came prepared with a short but sweet mentalism routine that was designed to really make an impact: Disposable Color, Nile Derivation, Lightning Box, Liquid Metal, Fork Flower, and the Blindfolded Rubik's Solve.
Sorsi
and
JayVee
were hosting, so it was definitely going to be a hilarious program whatever happened. After Aileen spoke up, Sorsi mentioned to the SM people that someone has been swiping their forks, and they're going to find out what this guy happened to do with these forks, and that was my cue to go up and do my schtick.
In any case, for a taste of one of my favorite acts that night (The
Osterlind Fork Flower
, here's a thousand words (Ergo, one picture...), originally from
Karla Redor
: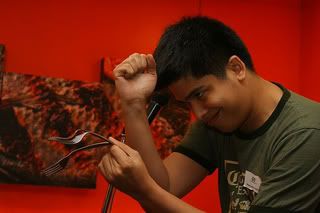 The power of Christ compels you! The power of Christ compels you!



And of course, Much thanks to Alliver and PJ, who were my "eyes" when I solved the rubik's cube for my finale. This time, the picture is originally from Alan Racoma: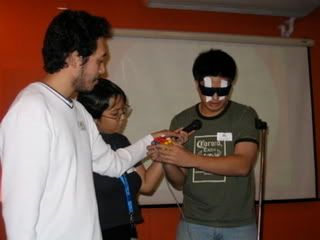 I'm blind! Blind as a bat! How blind is a bat?



Well, it was a success all the way, and I managed to complete the cube quickly enough. Shari was her usual self, just staring in utter disbelief at the fork bending at her behest. Her brother, Robby, was more of the same. During dinner, I ran into a lot of other bloggers, and even a lot of other people I knew from outside of blogging. All in all, it was a really eventful night, and even latecomers like Rico and Sasha were welcome additions to the celebrations. One of the earlybirds would naturally be Ms. Janette Toral, and with blogging celebrity Ms. Noemi Dado, this was a star-studded event, to say the least.

Taste Asia's food was eclectic, considering how they had everything from sisig to siopao, and just about everything in between. The food was splendid, and with the mix of food they had available, there was definitely something for everyone, to say the least.

All in all, the party was a veritable success. One can only hope more of these events turn up soon enough, seeing how well-received it was by the blogging community.

Congratulations to all the people who made this possible! This was just a really awesome meeting of the minds!

And, as ganked from Aileen: Link-Loving galore!

An Apple a Day
Pinoycentric
Zoul1380's The Daily Me!
Misteryosa
Project Manila
Ramblings of a Princess
Sexy Mom
Ceskypooh's World
Keysinunez.com
Bambastic
Single Brown Mommy
Bakla Ako, May Reklamo?
Touched by an Angel
Teacher Julie
Bababa ba?
Ultradust
The Thumbsucker
Mimi and Karl (Cliquebooth owners)
Jerico
You Will Be Forever
Tom
Mr. Kwee for SM Hypermarket
Paul's Blog
Pinoyblogero
Biyahilo
Baratillo.net
Rockersworld.com
Techievangelism
Vignettes
The Chef at Chez Panda
Brian's Blog
Sharmskee
Rain Contreras
Prudence and Madness
Lamonster Traveler
Pinoy Photo Blog
Brian for IAMD
Brian on Taste Asia 1
Brian on Taste Asia 2
Janette Toral
SM Hypermarket
Paradise Philippines
Geeky Guide to Nearly Everything
Ala Eh, the Batangas Blog
Jedianalyst
Half the World Away
Alan Racoma Jr.
Kutitots
Mistervader
In the Brink of the Mental Warzone
Pinoyblogero
Guitarchic.net
Cliquebooth Blog
The Parody
Vaes9
Random Pieces of my Mind
Mike Villar
Vanidosa
Ganns Deen
Mind, Heart & Mysteries
Life's a Beach... (sorry AJ with the ... wholesome po blog ko eh eheheh)
This Week on Pinoycentric
Style Manila


Photos! Photos! Photos!


An Apple a Day
Ultradust
Jerico
Karla Redor
Noemi Dado
BA Racoma
Rain Contreras
Brian
Bayanihan Blog Network
Juned
Project Manila
Juned's Multiply
Vanidosa
Shutterhappy
Ann
Eugene
Ganns
Rebelpixel.com